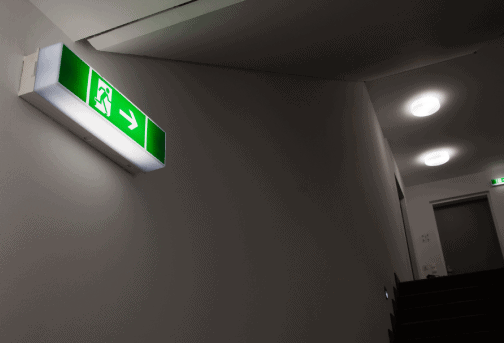 Emergency Lighting
When it comes to Emergency Lighting Systems, choosing the right one without the best advice can be a minefield. But in the event of a fire, or even a power cut, the right emergency lighting system will allow swift and safe evacuation of your premises,keeping your people out of harm's way. To ensure your complete protection, we'll start by carrying out a comprehensive Fire Risk Assessment.Then, based on a clear understanding of the risks associated with your premises, we'll recommend what we believe to be the ideal emergency lighting system for your needs, and your budget. Then, our team of experienced and qualified engineers will professionally install your system at a time that's convenient for you. We can even deliver Fire safety training to ensure that your key personnel know precisely what to do in the case of an emergency.
"We work with businesses large & small, providing excellent service!"
British standards require emergency lighting to be installed.
An emergency escape lighting system should cover the following areas: • each exit door • escape routes • intersections of corridors • outside each final exit and on external escape routes • emergency escape signs • stairways with each flight receiving adequate light • changes in floor level • windowless rooms and toilet accommodation exceeding 8 sq meters • fire fighting equipment • fire alarm call points • equipment that would need to be shut down in an emergency • lifts and areas in premises greater than 60 sq meters Spectrum Fire UK can help you ensure that you comply with the latest government guidelines.